• Hand Wired Tube Amplifiers • Hand Wired Foot Pedals • Amplifier Accessories • Custom Effects Pedals and Amps •
Burriss Products
Stats-
11.5"x 6.75" x 7.13"
Only 12.7 lbs
Class A
EH - EZ81 Rectifier
Two J/J EL84's
Three 12AX7 Mullards
Full EQ
Use as a Preamp
A foot switchable Effects Loop
(pedal optional)
Extremely flexible Master Volume
Multi-Tap Outputs 4,8 & 16 ohms
Universal Power Supply
Hand Built in the USA
includes Power Loop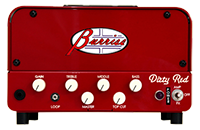 Dirty Red
(Includes the power loop footswitch, cable, & power cord.
Hailed for it's no compromise overdrive tones, the Burriss Dirty Red delivers the goods in spades. The perfect choice for the demanding guitarist that requires solid overdrive tones in an environment calling for lower stage volumes.
Packed with features normally reserved for large stage amps like a dynamic preamp control to dial in the perfect amount of overdrive and sustain, a full 3 band tonestack, a versatile top cut control for final tone shaping and a flexible master volume to adjust the output levels to meet the demands of your session or gig.
Additional useful features like a foot switchable series effects loop which also contains the same innovative pedal board power supply found on the Royal Bluesman. Burriss was first to offer this concept which provides guitarists a slick method of powering virtually any 9vdc effects pedal right off the included Powerloop footswitch.
Also capable of operating with out a speaker load when the powerswitch is placed in the FX mode lets the user use the Dirty red as a high gain preamp. All housed in a custom chassis and weighing in at a scant 12.7 lbs. This ultra small small footprint 18 watt all tube amp is handmade with care and ready to rock your head off! 4-8-16 ohm speaker outputs, 50/60hz and world power ready.
CE and ROHS certified.
Proudly hand made in the USA!

Online manual for Dirty Red.

Online manual for Power Loop.