• Hand Wired Tube Amplifiers • Hand Wired Foot Pedals • Amplifier Accessories • Custom Effects Pedals and Amps •
Burriss Products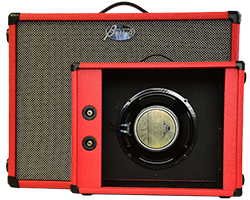 BURRISS TONECLASSIC 112:
Heavy duty pro grade construction yet deceptively lightweight due to the high quality baltic lite ply used throughout.
The Burriss Toneclassic 112 extension cabinets are designed for big tones in a highly portable package.
Ships loaded with a smokin WGS Reaper @ 8ohms or unloaded if you prefer ready for the speaker of your choice.
Available in either black or red nubtex upholstery these tour ready cabinets are made to ROCK!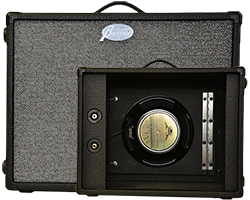 BURRISS DC CAB:
DC Cab Red or Black with speaker
DC Cab Red or Black no speaker
Another first from Burriss, the DC cab (driver clamp cab) is the same small size as their Toneclassic 112 but features a totally original method of mounting the speaker. Due to this unique design guitarists can change their speakers out with ease- 2 thumbscrews and about 45 seconds is all that is required to set your rig up with a whole new sound.
Perfect for the small studio, shops that want to quickly demo speakers or for the guitarist that enjoys experimenting with an assortment of speaker without the hassle of pulling out the ole' tool kit. Ships loaded with a hot WGS Reaper speaker @ 8 ohms or unloaded ready to roll thru your collection of modern or vintage speakers with ease.