• Hand Wired Tube Amplifiers • Hand Wired Foot Pedals • Amplifier Accessories • Custom Effects Pedals and Amps •
Burriss Products
Stats-
18watt Class A
11.5" x 7.13" x 6.75"
14lbs (1 stone)
Tube rectified
Custom chassis
Hand wired
4, 8 and 16 ohm output for speakers
Cathode biased: plug and play power amp
120v and 240v 50/60hz world power
EZ81(x1) Rectifier
EL84 (x2)
12AX7 Mullards (x3)
Made in the USA
includes Vib+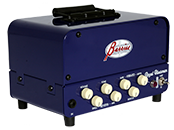 Royal Bluesman
(Includes the VIB+, cable, & power cord. OPI sold separately.
Quality, Versatility and sweet tones have always been the hallmark of the Burriss Design philosophy and the Royal Bluesman is no exception. Despite it's ultra portable stature the Royal bluesman is really 2 high quality audio devices in one.
It's primary design intention is a warm and expressive tube-type guitar amp with on-board spring reverb and tremolo features unheard of on an amp of this size. By moving the power switch down to the "FX" mode the Royal Bluesman takes on a whole new identity.
In the FX mode the Royal Bluesman can be unloaded from the speaker so that it can be used as a stand-alone reverb tremolo unit into another amp or mixing console. The features dont stop there, also included is a series effects loop complete with send and return level controls which allows the return to be used as a quasi 2nd channel.
Burrriss was first to the market with a handy pedal board power supply built right into the amp which supplies 9vd@1A to your pedal board via the footswitch cable. The included VIB+ footswitch has a 2.1mm power outlet jack that allows guitarists to daisy chain out of the VIB+ to power most any standard 9V effect pedal.
Other features include 4-8-16 ohm speaker taps and 50/60hz world power capable.
CE and ROHS certified and proudly hand wired in the USA!

Online manual for Royal Bluesman.

Online manual for VIB+.

Online manual for OPI (Sold Separately).
2.1 power supply jack is an OUT ONLY. DO NOT plug power supply into Vib+.
Some Key features-
1.) High voltage class A amplifier-Reverb with dwell and mix controls parallel with the guitar pre-amp Vibrato (optional foot pedal available).
2.) Series Loop or Parallel Return.
3.) Allows effects to be added in the loop.
4.) Allows the Royal Bluesman to act as a stand-alone reverb and vibrato to be used with other amps for those effects.
5.) Royal Bluesman may be used as a pre-amp which also allows it to be used as a boost when used with the Burriss Chaloopa Loop Pedal.
6.) Line level input parallel with the guitar channel allows you to run external music through your amp while playing along.
7.) Capable of two line level inputs using the "send" jack Volume: from bedroom to gigging level.
Audio Samples-
Eddie Berman Sound Sample
Chad Johnson Sound Samples
Royal Bluesman position 4 Strat
Royal Bluesman with Strat
Royal Bluesman with PRS
Royal Bluesman PRS full tilt
Royal Bluesman tremolo
Note: Quality differs from the actual Amplifier. The only way to hear the TRUE tone, is to actually play one!